• Paperback:
332 pages
• Publisher:
The Wild Rose Press, Inc. (September 30, 2015)
Watch out Southern California!
There's a new entertainment attorney in town and she's got game. Only problem is, it's not the one she should be playing.
Corrie Locke belongs behind a desk, not behind a Glock. She should be taking VIP calls, not nosing around a questionable suicide. Instead, she's hot on the trail of a murderer. Luckily, she's the daughter of a late, great private eye and she's inherited his love of sleuthing…and illegal weaponry. It doesn't help matters that her gene for caution is a recessive one. Corrie finds herself in the center of a murder case, unearthing suspects in shocking places. With a cold-blooded killer on the loose, Corrie will have to up her game, or die trying.
Cove Member Robin Reviews—
MURDER AND OTHER UNNATURAL DISASTERS!
Not even a law degree and a new job in the entertainment industry can shield Corrie Locke from her father's infamous reputation or her own adventures in the private investigation business.
On her first day on the job Corrie learns that there is something odd about the senior leadership of the company. Even more disturbing, she is told that an employee recently committed suicide and a friend of the deceased believes that he was murdered, and he forces Corrie to investigate in order to keep her new job. She is assisted in her sleuthing by an eclectic group of people, including a security guard looking for excitement, and a close male friend, who treats her like a sister but Corrie wants the relationship to be much more than that.
To make matters worse, one of Corrie's former clients, a professional athlete, begs her to find his missing cat, his good luck charm, and is incapable of doing anything without the cat. No matter what Corrie does her past keeps coming back like a bad dream and her love life is going nowhere.
Fans of Stephanie Plum or Carlotta Wren (The Body Movers series) will enjoy this lighthearted cozy mystery with its quirky characters and all the antics that Corrie gets herself into. There are also a couple of "hunky" guys in the book that add a touch of romantic tension to the whodunit. The plotline seems to be a little choppy but that does not impact the overall reading experience. I am hoping that Lida Sideris will provide us with more adventures with Corrie and her madcap friends; this was a delightful read and I looking forward to more fun and a good laugh with Corrie in the future.
Praise:
Murder and Other Unnatural Disasters
is a delightful twisting maze complete with Hollywood film production, murder and mayhem, sexy and quirky characters and a smart lawyer who is trying to make sense of it all. —Kimberley Troutte,
New York Times
and
USA Today
bestselling author

Purchase Links:
About Lida Sideris: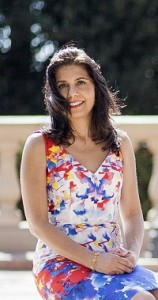 Like her heroine, Corrie Locke,
Lida Sideris hails from Southern California and worked as an entertainment attorney for a film studio. She has written numerous magazine and newspaper articles, a poem or two and a teleplay. She shares her home with her family and an assortment of dogs and chickens. She was the recipient of the 2014 Helen McCloy/Mystery Writers of America scholarship for mystery writing.
Murder and Other Unnatural Disasters
is her first novel.
Find out more about Lida at her
website
and connect with her on
Facebook
.