• Paperback: 250 pages
• Publisher:
Diversion Publishing (November 3, 2015)
Synopsis:
A searing erotic thriller perfect for those tantalized by A.R. Torre's Deanna Madden series...
Anything you can imagine. Everything you crave. For the members of The Raven Room, it's every fantasy fulfilled. But for some, that desire is a matter of life and death.
Drawn by needs he cannot control, Julian ventures to The Raven Room, a secret and exclusive sex club in the underbelly of Chicago. It goes beyond sex. It goes beyond kink. The Raven Room is the only place where Julian finds release from the dangerous urges that threaten to destroy the successful life he's worked so hard to build.
When the police link the Raven Room to the death of a young woman, it threatens to expose a number of powerful people—people who would kill to stay anonymous... Meredith's body can't get enough of Julian. He has opened her sexual horizons to tempting new possibilities. But out of bed she's an aspiring journalist, and The Raven Room is the story she's been looking for. By writing an exposé on the club and its elite clientele, she plans to launch her career.
As Meredith embarks on a sexual journey into the forbidden world that Julian inhabits, questions emerge, and dark appetites threaten to swallow her whole. How much can she trust the man who has laid bare her erotic nature and how much will she sacrifice in order to protect him?
Praise:
"If you're looking for an exciting novel that can balance erotic sections with a thrilling who-done-it, look no further; The Raven Room will have everything you could possibly want and more." —San Francisco Book Review
"Readers who enjoy complex stories with strong characterization and psychological depth will find The Raven Room a satisfyingly story of emotional turbulence…" —D. Donovan, Senior Reviewer, Midwest Book Review
Cove Member Nicole Reviews—
THE RAVEN ROOM!
Julian is a child psychologist with secrets and a past that he keeps very close to the vest. He's closed off and doesn't open himself up to anyone.
Meredith is a student and aspiring journalist who is having a casual yet exciting sexual relationship with Julian.
Julian has a membership to an exclusive and extremely private underground sex club called The Raven Room. It's a place that Meredith has been dying to get an invitation to and she secretly wants to write an exposé on the meeting place to skyrocket herself to fame...at Julian's expense.
Julian takes Meredith to the club where they meet a seductive young woman. Julian begins a relationship with her and she has many secrets herself.
The book is filled with twists and turns and layered with secrets. Julian is a very likable character and you just want to hug him and make everything okay from his past and into his future.
The writing held my interest, but at times I felt it was a bit redundant. However, the action kept me on the edge of my seat and I'm anxiously awaiting the next book in the series. I'll definitely be reading!

Purchase Links:
About Ana Medeiros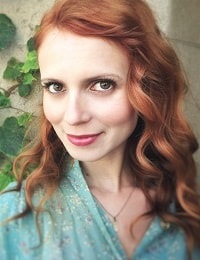 Photo by: Garfield L. Miller
Born in the Azores islands, Portugal, Ana Medeiros has a background in Photography, Sociology and Psychology. For the last seven years she has worked in the magazine industry. She currently lives in Toronto, Canada, with her boyfriend and two cats.
The Raven Room
, book one of a trilogy, is Ana's first novel and is published by Diversion Books.
Visit Ana at her
website
and connect with her on
Facebook
.